Welcome to HulaHoopla®
Hoopdance is an expressive movement combining dancing and hooping. It is a fun way to get fit while working all the muscles of the body, improving balance, flexibility and coordination, relieving stress, pumping up your energy, awakening your senses and unblocking your chi. You will tone up, slim down and get a great cardio workout!
That toy store hoop you grew up with has gone through some major evolutionary changes in the past few decades. Adult-sized hoops are heavier and larger in diameter. The size and weight allows the hoop to spin slower, making it easier to control and learn on. It's pure childhood joy in adult size.
Welcome to my world of bliss. -- The Hoopanista™
---
HULAHOOPLA® FOR THE HOLIDAYS!!
Give the Gift of Hoops & Hoop Classes
Please contact me with any questions. Thank you.
---
HULAHOOPLA® BEGINNER SPINNER SERIES!
Makes a Great Gift! - No Experience Necessary
HulaHoopla® Beginner Spinner II starts Dec. 16th!
Take Beginner Spinner I or Beginner Spinner II in any order, join anytime!
See Classes for details.
---
COMING IN JANUARY 2014!
The HulaHoopla® Revolver Series:
Revolver I & II picks up where Beginner Spinner I & II leave you begging for more. Take your hooping practice up a notch as you hoop your way to health and happiness.
NOTE: Because this is a new series, we need a minimum of 5 students to register to make sure this class will fly. Please spread the word. Thank you!
---
HulaHoopla®: A Podcast for Hoopers
Episode 8 is up!
Explore the world community of hooping and hoopdance through the voices of our hooping compadres! We'll chat with hoopers - newbies to pros! - about hooping and how it has touched their lives.
In this episode it's all about the tease. What do I mean? Well, it wouldn't be a good tease if I told you.
Click here to subscribe on iTunes.
Click here for a QuickTime player.
You can also find this podcast as a more detailed post on my blog.
---
THE SPINNERETTES @ THE ROLLER DERBY!
The Hangar at Oaks Park - May 5th - 6pm
Rose City Rollers - Home Team Semi Finals
The Spinnerettes put on a stellar halftime show at the roller derby bout!
So many people turned out to support the teams and support us!
Check it out!
---
THE SPINNERETTES - HOOPING.ORG
March 21, 2012 - Photo of the Day!!!
This is truly an honor. I'm so happy to announce that we have Photo of the Day on Hooping.org. Thank you Philo!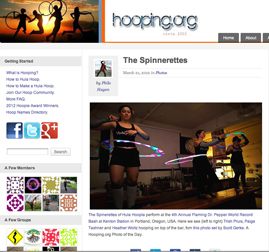 ---
Hooping at Buses by the Bridge
Holy cow! Made a very special journey to Lake Havasu, Arizona this past weekend to be with friends and Volkswagens (by other passion!). Lots of hoopers down there too so I got to do what I love and got a little TV time on the local station. Thank you TV45!
Watch it here.
---
HulaHoopla® on KPTV!
MORE Good Day Oregon - KPTV Channel 12
We did some hooping at Center Stage Studios on November 29th. KPTV interviewed me about hooping during a hoop jam and put this nice package together that aired on December 7th.
Watch it here!
---
Got ANOTHER Mention on Hooping.org - I am blessed!
HulaHoopla on Studio 6 - Hooping.org
---
Fire, GOOD!